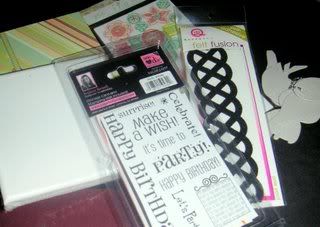 Received a wonderful news today. Thank you Liza, for your birthday giveaway! Can't wait to get crafty with the yummy scrapping stuff!
Visit
Liza's blog here
and you'll be amazed of what this scrapping mummy can do. I love all her works of art, and I think she can do wonders when it comes to altered art (seriously!)
On another update, can you believe that I actually discussed my crafting addict in my Academic Discourse class yesterday? Well, the class was supposed to discuss on the differences between discourse community and speech community and I ended up giving details on Lovescrap, craft blogs, our craft community and the registers used for this particular discourse community. Register in a linguistics term would mean the words that are being associated to a particular community - there are words that only lawyers can understand, linguistics terms that only English majors can understand etc. For example: when I mention academic discourse, you may not understand what it meant coz you're not part of the linguistics learners. And when we, the scrappers mentioned a 'crop session', others outside the craft community would hardly understand what it meant.
Well, hope you get the point hahahah. Well, then my lecturer suggested that I should do a term paper on the differences between a real discourse community vs a virtual discourse community. To say it in a layman's term - I am going to do a small research on our craft community, and it's not even about craft. Hahhahaha. (And my thesis is about blogging and academic writing and last semester I did a term paper on Facebook)
That's why I love being a language person. You can relate language to everything you love.