I hardly join giveaways, but I think these three deserved special mentions, and lots of LOVE from everyone!
(Everyone seems to be on giveaway mood lately in Malaysian craft scene haha)
There's always a little something that I learned from my encounters with online craft communities. Each blog that I silently read always encourages me to learn something new, something fresh, and mostly, something to ponder. One of the very first thing I learned on being a good crafter was the need to have distinctive style of your own. A style that carries you name with it, so people would be able to associate the uniqueness of your craft, even at first glance. A friend once said to me: there are many copycats around, but the creative cats are the ones that shine the most. And these three crafters are examples of those shiny creative cats (with bling2 accessories hahaha)
Picture Perfect Giveaway
Azilah of Cupcake Crafts & Handmade Cards
has decided to share
this Gorgeous tri-shutter card
!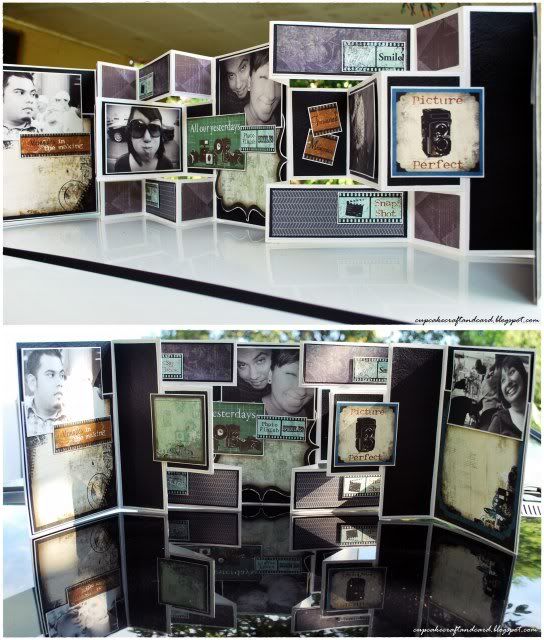 When I first found
Azilah's blog
, I knew that I've fallen in love at first sight. I adore her vintage cards to the
nth
degree, and envy her photography skills too. I LOVE LOVE LOVE LOVE LOVE her colour choices and her perfect ways of combining textures and patterns on her cards. She has that distinctive vintage + retro + a bit of English style that I love to my heart's content! You have no idea how many times I'd secretly went through her blog entries and drooled over her designs hehe. And her photos... are superb! We should meet one day dear, so I could learn a trick or two from you on how to improve my camera skills hehe.
Sending Love Your Way Giveaway
Lin of Lin Handmade Greeting Cards
is giving this fluffy bear card away for
her November giveaway
!
Lin is one of the pioneer Malaysian paper-craft blogs that I found online - and she even have some loyal customers dated even years back (which shows how trustworthy she is). When I just started craft-blogging, she had already established herself as a true card maker. When I had the opportunity to meet her personally, my respect grew, and so did my admiration over her crafts. I could never have the patience like she has, and the neatness of her cards humbled me to improve how I made mine. And the best part, she's like The giveaway queen right now, having organise giveaways every month hehe! :D
Design with Nature Giveaway
Last but not least,
Asma' of Simple Rhyme
decides to share
this hand-bound books
with 2 lucky winners!
Asma' of Simple Rhyme holds a special mention. She is one of the earliest Malaysian quillers I've met and I've been following her quilling blog ever since she started one. She has her own distinctive quilling style that I admire (more like envy haha), and has been quilling for years (even longer than I do!). She's neat, and clearly has more patience than I do too heh! Recently she made my jaw dropped with her awesome hand-bound books. I took one look at mine, and then hers, and immediately knew that I had to hide mine away - my poor books would feel VERY insecure standing next to hers hahaha.
I sincerely thought that these three lovely blogs need all the love they can get. So why wait? Go pay these creative cats a visit, and fall in love okay! (and while you're there, don't forget to join their giveaways as well. :P)