This is a sweet, sweet card. And it's sooo....... PINK! Hahahahaha. A combination of pink and red can create such a girlish and feminin card. I found the butterfly design while browsing a craft book at Popular and Sara (who happened to be with me) was so into it and asked me whether I could make a similar card. So we sneakily took picture of the card through our handphones (which was not advisable to do - but I always do anyway hehe) so I can take a look at the picture later. The picture does no justice though coz it was sooo blurry I can only make out the design, not the details. So, I scraplift and improvise.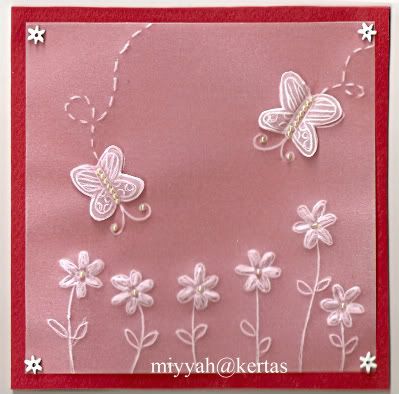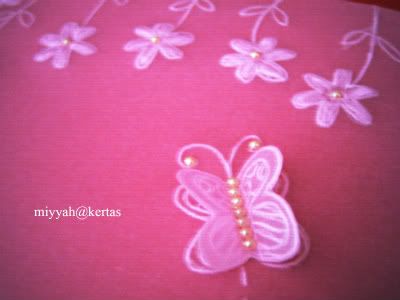 (blogger still goes haywire so I let photobucket hosts my photos.)
I should have put stronger colour for the pearls, but I can't help it, the use of the plain-coloured pearls compliments the softness and the sweetness of the card. This is specially made for Sara (though she doesn't know it yet).
Materials used: Cardstock, tracing paper, white pencil colour, nail deco - pearls as embellishments, brads and glue ( to stick the pearls)
Techniques: Paper-cutting, embossing.